cicmnt 2
Clearance of epicormic growth

Clearance of epicormic growth is a specialized service that requires skill, knowledge, and precision. Professional tree surgeons play a crucial role in enhancing a tree's health and appearance by selectively removing unwanted growth. For clients seeking epicormic growth clearance services, understanding the process, qualifications, and safety considerations is essential in making informed decisions about their tree's care and well-being.
As a seasoned tree surgery company, we specialize in maintaining the health and aesthetics of trees. Clearance of epicormic growth is a crucial service that involves removing unwanted shoots or branches that develop along a tree's trunk or main branches. In this section, I'll provide insights into when this service is necessary, the process involved, safety considerations, qualifications required, and information valuable to clients considering epicormic growth clearance.
When is Clearance of Epicormic Growth Necessary?
Epicormic growth refers to the sprouting of shoots from latent buds on the tree's trunk or branches. This can occur due to various factors, including:
1. Stress: Trees can respond to stress, such as injury, disease, or pruning, by producing epicormic growth.
2. Overcrowding: Dense canopies or nearby vegetation can lead to reduced light penetration, prompting trees to develop epicormic growth for more light exposure.
3. Environmental Changes: Sudden changes in light, temperature, or moisture levels can trigger epicormic growth.
4. Aesthetic Reasons: Epicormic growth can impact a tree's appearance, prompting clearance for aesthetic purposes.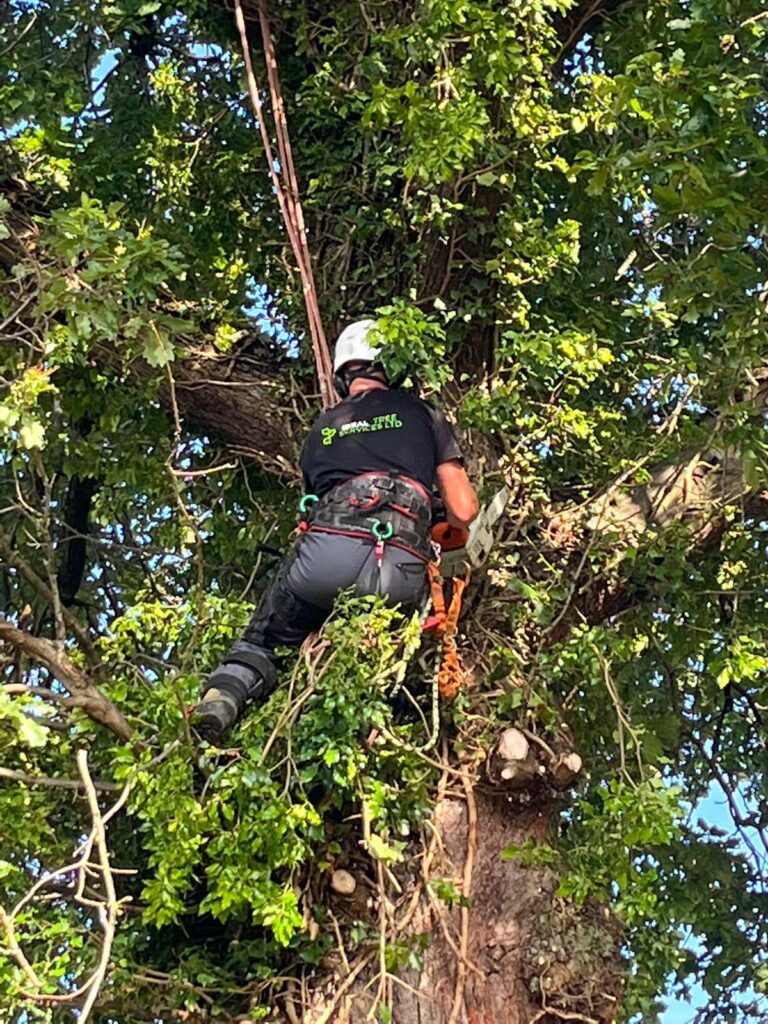 The Epicormic Growth Clearance Process:
A thorough inspection of the tree is conducted to identify areas with epicormic growth and determine whether clearance is required. We will assess the tree's health and potential risks associated with the task.
A pruning strategy is developed, focusing on removing epicormic growth while preserving the tree's overall health and structure.
Using precision pruning techniques, we will selectively remove unwanted epicormic shoots and branches. The aim is to maintain the tree's natural form while eliminating excessive growth, while maintaining the tree's structural integrity.
Proper cuts are made to avoid damaging the main branches or trunk, and to promote rapid healing of pruning wounds.
Green waste is carefully removed and disposed of using our chipper and taken away from site. Ideal Tree Services holds the appropriate waste carrier's licence.
Safety Considerations:
Safety is paramount during epicormic growth clearance. Ideal Tree Services are a professionally certified tree surgery company. We have undergone training in all tree surgery techniques and safety protocols. All qualifications can be available on request.
Properly maintained tools ensure efficient and safe pruning. We only use well-maintained and appropriate equipment, including pruning saws and loppers, which are safety checked prior to each use.
Appropriate signage, traffic Management, or cordons will be put in place to ensure that the risk to people entering the work site is reduced and prevent unauthorized access and ensure the safety of both workers and bystanders.
Proper Personal Protective Equipment (PPE) including helmets, eye protection, gloves, and chainsaw-resistant clothing, are worn to minimize risks.
Professional tree surgeons should possess the required certifications. Arborists often hold certifications from reputable organizations such as the International Society of Arboriculture (ISA).
At Ideal Tree Services we have many years of experience in safely and effectively performing epicormic growth removal.
Furthermore, our extensive training, risk assessment and experience means that we are adept at spotting potential hazards and putting plans in place which minimise any risk.
Ideal Tree Services holds full liability insurance, which is essential to cover any potential damage or accidents during pruning.
Useful Information for Clients:
Ideal Tree Services provide a full consultation to assess your tree requirements. We will schedule a site assessment to consider the tree's condition and discuss the need for epicormic growth clearance. We will advise on the best time of year for epicormic growth clearance, as some seasons are more suitable than others and consider ongoing tree care and maintenance to prevent future epicormic growth issues.
We provide detailed job descriptions/ quotes outlining the scope of work, specific pruning techniques, and safety measures.
We fully consider local regulations. Clients should inquire about permits or permissions required for tree felling in their area. We can support/ signpost for clients to find this out.
Please feel free to ask for references or examples of our previous work we have undertaken for our many happy domestic and commercial clients.
Ideal Tree Services are reputable tree surgeons- check out our fantastic reviews for your assurance
Call now to book a FREE, no obligation quote